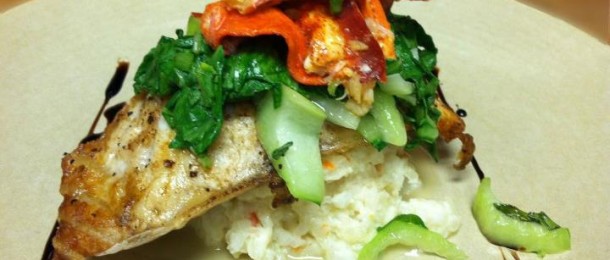 Right now Monkeypod Kitchen (10 Wailea Gateway Place in Kihei) is featuring a pan-seared Hawaiian Snapper nestled on top of a coconut ginger and carrot risotto, surrounded by a big island honey butter glaze and a balsamic drizzle. They top the snapper with a delicious lobster and baby bok choy salad.
Visit for Happy Hour daily from 3pm to 6pm. Most appetizers are 1/2 price, and of course fantastic specials on beers and drinks!
Took a little all day road trip from Lahaina to Hana and back. Right before the town of Hana there are several road side restaurants grouped together on the left side of the road. They all have little picnic bench style seating. On our way back we stopped here at Jen's Thai Food. At the time we arrived, all the other stands were closed, and so was she, as she was packing up to leave for the day — but she reopened her kitchen for us! The menu has maybe 10 items on it. We ordered 4 of the items on the menu, consisting of a 2 types chicken, beef, and a shrimp dish. They all came with rice and salad. The 4 of us ate this meal family style. Everyone was quite pleased with what we had. There was plenty of food and the price was very reasonable. The total came out to about $56.00 including drinks, which she went and got us at the little store that was closed next door.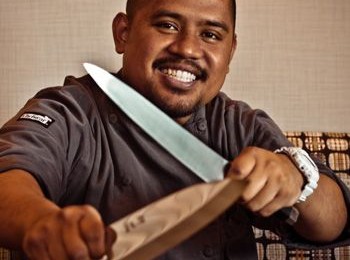 If you're not a Maui local or frequent visitor, you would be excused for not having heard of Star Noodle. But since opening in Lahaina in 2010, the restaurant has earned a steady and loyal following of locals and tourists alike, and the buzz has transcended the island culinary scene. Just this month, Food & Wine magazine awarded Star Noodle Chef Sheldon Simeon with the coveted title of "Best New Chef" in the Northwest and Pacific category.
Read more »