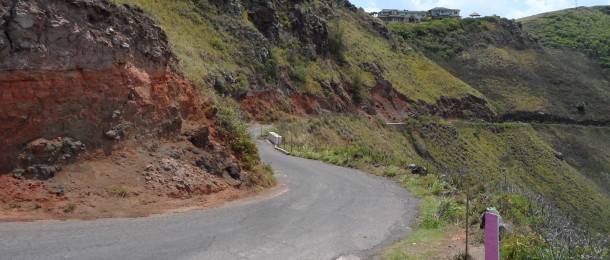 Here's a nice side trip that you can take any time during your vacation. However, since most flights leave the island late in the day, and you have to check out of most hotels and resorts in the morning, this is a great way to pass the few hours in between.
Leaving the Kaanapali Beach area, take a left onto Highway 30 West. Past the resort area of Kapalua is Lower Honoapiilani Rd. There is a very nice beach here, DT Fleming Beach Park. The public beach is shared with the adjoining Ritz Carlton Hotel. You will find anyone from a prince to a pauper on this beach. It is a great place for a picnic with many tables.
Back on the highway, the next several miles will offer many turnout locations for pictures, hiking, snorkeling activities. At mile marker 38 there is the world famous Nakalele Blowhole. Mile marker 40 is another stop where the Ohai Trail is located. Down the road you will see a sign Banana Bread 3 miles ahead. At this point the road becomes just a single lane. On this 10 mile stretch of single lane, you will have to juggle with the cars from the other way, sometimes having to back up or wait in order to pass. (Some people choose to turn around and go back at this point.) After 2 miles on this narrow stretch you will reach Old Kahakuloa Village. There are a few road side stands here — Julia's advertises here the banana bread as best on the planet. Following the road up and out of the village you will now go past ranch land. Soon, State highway 340 will begin the road will widen and take you into Kahului. This trip can be done in a few hours with minimum stops,  or you can spend the whole day on this route.