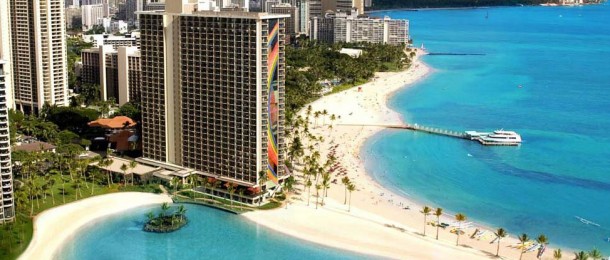 If you're a fan of the current Hawaii Five-0 series, you have probably seen the breathtaking shot of Waikiki Beach in the opening credits, featuring a towering hotel with a brilliant rainbow emblazoned down one side. It is none other than the Hilton Hawaiian Village, and is prominently featured during many on-location scenes of the series as well. (Hmm, how much did THAT arrangement cost?)
Named by Parenting magazine among its list of top 10 family resorts, the Hilton Hawaiian Village is situated on the beautiful Duke Kahanamoku Beach. With an expansive stretch of sand, and a lagoon perfect for the young ones, the location makes for a perfect family-friendly getaway.
If your Hawaii travel plans call for a trip to Oahu in September or October, we have a 2-bedroom unit available during September or October. Contact us for availability and pricing.