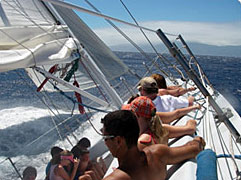 It's a once-in-a-lifetime experience and adventure you'll share with friends long after you leave the islands. Live the adventure, capture the romance and feel the thrill of sailing Maui's blue water on an actual America's Cup Contender — the AMERICA II!
This was a fun little boat ride I took this afternoon. It lasts for a couple hours. Plan on holding on tight and getting very wet!
They're conveniently located at Lahaina Harbor. Check them out and book online at http://www.sailingonmaui.com/.